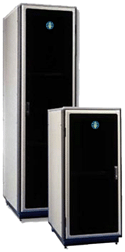 Meta Fusion provides Information Systems products and services. We strive to provide you with solutions that are intuitive, easy to use, and rich in capability, solutions that fit the way you do business and that maximize your efficiency and productivity. We can customize or tailor-make your solutions, integrate with your legacy systems and provide you high value options for growth and modernization.
Meta Fusion Information Systems have high reliability, and are deployed in high-availability configurations according to Meta Fusion's state of the art architectures for reliability, to ensure that you benefit from uninterrupted and very responsive access to your desired functionality and information. The information that is stored and maintained by our Information systems is protected, and the system design and internal configurations provide information persistence in the event of a disaster.
Meta Fusion's Information Systems are designed and built to function as multi-user real-time distributed applications. Their implementation permits their deployment as secure, responsive, massively scalable on-line services. This gives you the benefit of location-independent deployment, and the assurance that all of your users, independent of where they are located, will be served.