MetaFusion's MetaPACS solutions provide high-availability enterprise PACS with enduring high-performance and high quality for your image distribution and archive needs, backed by Meta Fusion's high standard of service and support.
Your enterprise will be able to operate contiously without interruption, and your staff and affiliates will be very satisfied with the consistent availabilty and performance of our systems, and the quality of inteactions with our staff.
Your MetaPACS solution can be tailor-made to your needs by Meta Fusion. The ....
Imaging networks that do more
Your network is the "electronic spinal chord" of your business. You normally don't even know it's there, but when it goes down, then many of your critical functions stop and only then you are reminded of its importance. We make networks reliable, so you don't have to think about them.
Relying on our networking solutions and services will enhance your efficiency and provide more capabilities that you can then translate to productivity and profitability.
Meta Fusion proxy server doubles up as a powerful mini-PACS appliance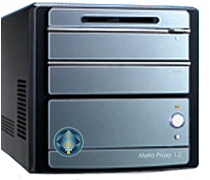 The MetaProxy 1.2 is a small footprint dependable mini-PACS appliance with over one (1) terrabyte of primary storage space for your images and medical information.
The MetaProxy 1.2 provides you an affordable DICOM image store that can accept images from all of your DICOM modalities, and then distribute them to their intended recipients from a central location, allowing your care-providers to access their images conveniently.
The MetaProxy 1.2 is easy to configure and easy to use. Mate Fusion pre-configures your MetaProxy 500, and you simply attach power and your network, and your mini-PACS is on-line and ready to use. Using a simple-to-use control panel that can be run on any machine running a wide range of operating systems .....
MetaWorld or MetaArchive ?
MetaWorld II and MetaArchive both provide distinct advantages for your business.
Meta Fusion provides a comprehensive set of services in conjunction with its solutions to provide you with a full service so that you enjoy the convenience of a single vendor in providing for all of your PACS and information systems and network infrastructure needs
Meta Fusion's medical device solutions conform with ISO 13485:2003 and US 21 CFR 808, 812, and 820 CGMP and QSR, and the product line is available for sale internationally, subject to applicable laws. For more information about our quality standards, please contact us.
MetaPACS Series 3
Series 3 MetaPACS brings access-anywhere-anytime high-availability to the storage, distribution and archiving of your medical information and images. This access-anywhere-anytime high-availability provides your staff and affiliates with convenient access to medical information and images, without interruption of service. MetaPACS Series 3 is principally intended for multi-hospital groups that need to provide continuous care to ....